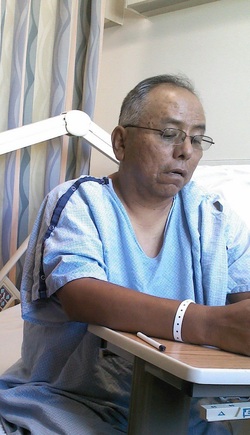 July 07, 2012: "that's the day our lives were changed forever..." As told by sister, Cecelia Begay.
Reevis Begay had been experiencing excruciating abdominal pain for almost two weeks. He thought it was soreness from playing volleyball the weekend before, however the pain kept getting worse as each day passed. On Saturday, July 07, 2012, after being urged by a friend to go to the emergency room, he proceeded to travel to Fort Defiance Indian Hospital in Fort Defiance, Arizona. After hours of evaluation and testing, the diagnose was possible colon cancer and liver disease.

The attending doctor wanted to have him transported to either Phoenix or Flagstaff for further evaluation and confirmation as soon as possible. However, Reevis asked to be discharged and informed the doctor he would go to Flagstaff Medical Center the following Monday for further evaluation. He was eventually scheduled to work in Flagstaff that coming week. As he had just returned from Flagstaff the evening before. Because of his employment, he constantly traveled to Flagstaff.

Reevis Begay was the Gaming Project Manager for the construction of Twin Arrows Casino and Resort, headed by the Navajo Nation Gaming Enterprise (NNGE). He was born on September 27, 1960 to Rex (deceased Nov. 16, 2013) and Rosie Begay in Littlewater, New Mexico. He was a member of the Navajo Tribe of Northern New Mexico. Reevis was of the Towering House Clan, born for the Tangle Clan, maternal clan is Bitterwater Clan and paternal clan is Mud Clan. He was raised in Littlewater, New Mexico, where the family has a farm. The family have livestock and a ranch is located northeast of Littlewater, New Mexico.

Reevis attended elementary schools at Sanostee Boarding School in Sanostee, New Mexico and an unknown school in Bountiful, Utah. After returning from Utah, he attended junior high school at Newcomb Junior High in Newcomb, New Mexico. He proceeded onto high school at Shiprock High School, where he graduated in May 1980. While in junior high and high school, Reevis participated in cross country, track & field and basketball. Reevis married his high school sweetheart, Dottie Mae Descheny in a traditional Navajo wedding on May 10, 1982. They were blessed with a son, Ramondo Joel Steven Begay, on July 08, 1979. Reevis was also blessed with a grandson, Joel Begay on August 23, 2002. These two individuals were his pride and joy.

Reevis pursued secondary education at Dine' College in Shiprock, New Mexico and San Juan College in Farmington, New Mexico. Reevis started employment with the Navajo Tribe first with the Food Distribution Program in June of 1981 to February 1984. On February 21, 1984, he started with Navajo Tribal Utility Authority (NTUA), Shiprock District as a Warehouseman. He remained in this position for ten years until he moved up in the company to Engineering Tech/Aide. On June 17, 2000, Reevis advanced to Customer Service Supervisor and was in this position for almost nine years.

He saw another opportunity in the company for advancement, however it would take him to another district on the reservation. He sought input from family and friends about moving to Window Rock, Arizona and on March 31, 2009 he transferred to the Fort Defiance District as an Associate Electric Engineer. At first he traveled daily back and forth to Fort Defiance from Shiprock and later he obtained a small apartment in Window Rock, Arizona. While being employed in the Fort Defiance District, Reevis made a huge impact on the Engineering Division that he was assigned the duties as the Gaming Project Manager. He remained in this position and was employed with NTUA for over twenty-eight (28) years.

On July 07, 2012 after being discharged from Fort Defiance Indian Hospital, Reevis informed Cecil and I, that he needed to talk to us. Upon arrival at the house, Reevis proceeded to tell us, he had been experiencing abdominal pain for almost two weeks and wouldn't subside. The pain worsened after returning to Window Rock from Flagstaff the night before. Therefore, he went to the emergency room that morning in Fort Defiance. He indicated after undergoing several series of tests, the doctor suspected possible colon cancer and liver disease. The doctor wanted him to go to Flagstaff Medical for further testing. Reevis said he would go there on Monday morning before reporting to work at Twin Arrows.

I noticed he was still in pain and he said he wanted to go home to Shiprock and relax the rest of the evening, and the next day as well. He also indicated he didn't want to be in the hospital the next day and informed his son, Ramondo about his diagnosis on his son's birthday. He also told us not to mention his diagnosis to anyone until it was confirmed on Monday. That evening, we made a promise to my brother Reevis that we would be there for him and with him through all whatever was ahead of him.

July 09, 2012, we followed Reevis to Flagstaff, which is a four hour drive from his residence in Shiprock. He was informed to go right to the emergency room upon arrival at Flagstaff Medical Center. We had no idea we were going to be there for nine days.

Immediately after receiving his results from Fort Defiance, the attending doctor informed us that Reevis was going to be admitted for further evaluation. After being admitted, he was scheduled for a colonoscopy the following day. On, Tuesday, July 10, 2012 a colonoscopy was performed at 9:15AM which confirmed his cancer diagnosis. The diagnosis was a malignant appearing obstruction at the distal descending or proximal sigmoid colon, one 6mm polyp in the sigmoid colon, one 20mm pedunculated polyp in the sigmoid colon, diverticulosis sigmoid colon and descending colon and internal hemorrhoids. The scope could not pass the malignant obstruction. The CT scan from Fort Defiance Hospital also noted a suspicious lesion in the liver and lung concerning for metastatic disease.

We met with Dr. Duane Lambert and Dr. Daniel Wesche, the surgeon who would be performing sigmoid colectomy: a type of surgery to remove a portion of his descending colon where mass was present. Surgery was scheduled the following day on Wednesday, July 11, 2012. After consultation with doctors, Reevis decided to let family and friends know of his confirmed diagnosis. However, he asked me make the phone calls, with the exception of the phone call he placed to his son. It was the most painful phone calls I had to make to our siblings and our mom.

I, Cecelia, am the youngest of nine children. Reevis was older by four years. Being born after Reevis, we had a special brother/sister bond. He was my big brother, my biggest supporter and always stood by me. Our older siblings are: Louise (Martin) Duncan, Calvin (Jeanette) Begay, Vera (Larry) Kewanwytewa, Lucille John, Leslie Begay, Rita (Johnny) Keeto and Chris (Lisa) Begay.

Wednesday, July 11, 2012 seemed like the longest day ever. He was visited by co-worker, Larry Juan as well as colleagues from NNGE and NTUA. It wasn't until late that afternoon when we were informed, surgery would be performed that night. Pre-op started around 4:30, Cecil and I stayed with him until they took him in for surgery. Ramondo arrived a few minutes before Dr. Wesche came into the waiting room after surgery to meet with us, and this was after 8:00PM. Dr. Wesche indicated surgery went well, he removed eight inches of the descending colon and was able to reattach the colon. Dr. Wesche indicated a normal healthy liver would be smooth to the touch, when he checked Reevis' liver, he felt 20-30 bumps on the liver. Which indicated the cancer had spread to the liver and he also noticed lesions on the lungs. This information we never shared with Reevis.

Family and friends came to visit and be by his side during the duration of his hospital stay at Flagstaff Medical until his discharged on July 17, 2012. One of his wishes after discharge was to take him to Snow Bowl.

There was a facility called, "Taylor House" located across from Flagstaff Medical Center, which is a place for families of patients to stay at a reasonable price. My family and I were able to stay at the Taylor House during this time of Reevis' hospitalization and a couple times after for oncology.

Since Reevis lived by himself in Shiprock, we arranged for him to stay at our mom's house in Littlewater so we could assist him in his recovery. I live just next door to our mom, which made it easier to help him. A week after his discharge, we traveled back to Flagstaff to Dr. Wesche for a follow-up visit. At this follow-up visit, Dr. Wesche suggested that we schedule a consultation with oncology to start chemotherapy. It was decided by Reevis and family members to consult with oncology back in New Mexico.

On August 01, 2012, a consultation for oncology was scheduled for Reevis and family members at San Juan Oncology. Reevis wasn't pleased with the consultation and he requested a second opinion with Arizona Oncology at Flagstaff, Arizona. This was not possible until August 22, 2012, when we met Dr. Peter Mathern with Arizona Oncology. He decided he would seek chemotherapy treatment at Arizona Oncology. Two days later, a port was placed to start chemotherapy on August 27, 2012.

August 27, 2012, he received his first treatment of chemotherapy, which consist of Xeloda and Oxaliplatin. However, he ended up in ER at Flagstaff Medical Cener that evening with severe abdominal pain. He was discharged that night and returned to Window Rock a couple days later. He stayed in Window Rock at his apartment until I received word from him that he was at ER in Fort Defiance that Friday evening. Cecil and I went to Fort Defiance Hospital and stayed with him into the early morning hours when doctors decided to transport him to Phoenix Banner Good Samaritan Medical Center for further evaluation. I flew with Reevis to Phoenix and that day, Saturday, September 01, 2012, he developed jaundice. I continued to stay with him as well as other family members that arrived that day until he was discharged on September 06, 2012. It was during his stay in Phoenix, that he gathered family members and informed us of his final wishes. He had come to realized that his illness was terminal.

I honestly could not stay in the hospital room when he was making this announcement and I had to step out of the room. I wanted my brother to continue his fight however, I could not see him suffering and had to respect his wishes.

On September 07, 2012, he was scheduled to meet with a doctor at Fort Defiance Hospital. We arrived at his scheduled appointment, however he got admitted after consultation with the doctor. Reevis was then discharged from Fort Defiance Hospital on September 22, 2012, after almost a two week stay. He requested to be discharged and returned home to Littlewater.

During his stay in Fort Defiance Hospital, he was transported to Flagstaff for his second treatment of chemotherapy. Apparently, this was a first for the hospital to provide transportation for a patient to receive chemotherapy.

Reevis returned home to Littlewater on September 22, 2012 from Fort Defiance, AZ. Family and friends continued to visit him during this time. The week off of chemotherapy, he was able to travel around. I thank Cecil for taking him here and there and being there for him when we couldn't. During this time at home, we celebrated his birthday on September 29, 2012, he had turned 52 years old two days before. His request was a thanksgiving meal, which I prepared for his birthday. And that's the last time I have prepared a thanksgiving dinner.

On October 06, 2012, I organized a motorcycle ride for Reevis prior to the Northern Navajo Fair & Parade, with the assistance of Wilbert Lee (Shiprock Fair Committee) and Paul Bemore (NTUA). Reevis made a point in the planning of this event, to stress cancer awareness. We had over 150 riders riding in support of Reevis who was riding in his truck at the front. That evening he wasn't feeling well and he agreed to seek medical attention. We transported him to Northern Navajo Medical Center in Shiprock, where the attending ER doctor consulted Dr. Kimberly Mohs, decision was made to have him admitted for observation. Reevis had medical consultation with Dr. Kimberly Mohs during his recovery from surgery two months earlier.

On Monday, October 08, 2012, Dr Kimberly Mohs wanted to meet with family members with Reevis' permission. That late afternoon, Dr. Mohs informed family members, Reevis only had hours to maybe days to live. This news was devastating. Dr. Mohs also told us to let other family and friends know. We had alot of visitors that evening and into the night. Several of family members continued to stay with him day and night and receive visitors. Tuesday afternoon, Reevis requested for a hamburger and coke, which we did not hesitate to get, because he had not been eating lately. On Wednesday, his request was a grape slush, which we happily got for him. On Thursday, October 11, 2012, he awoke happy and it was like he was his normal self, joking with us. Reevis had a great sense of humor. He asked me what day it was, I responded, "It's October 11th." When I realized the date, I said, "it's 10, 11, 12." I noticed a smile in his face. Later that morning, he asked where Cecil was and I responded he was in Farmington. Reevis than asked to have him bring a super supreme pizza from Pizza Hut for him. Since he was doing so well by noon, I informed him I was going to work that afternoon and would return that night after work.

At 3:48pm that afternoon, I received a phone call from my nephew, Ramondo, telling me to get back to the hospital, and hearing the words. "I think we are losing my dad." I immediately left work, which was 45 minutes away. Enroute to the hospital, I place phone calls to family members and to his dear friend, Sharon to inform them to get back to the hospital. I arrived back at the hospital within thirty minutes after I received the phone call. I rushed into his room (Room 104) and noticed he was still breathing but gurgling. I noticed my nephew by his dad's side. My sister, Vera was on the other side of Reevis, giving him the last rite prayer. I rushed out of the room to get a nurse to clear out his throat. The nurse went into the room to suction his throat and left the room after doing so. When I returned to the room, I sat next to Reevis and held his hand and said, "I'm back from work Reevis, I understand now, if you need to leave". I honestly think he waited for me to returned and to hear those words from me. I felt tears rolling down and I noticed Reevis taking his last breath. I looked up and asked Cher, who had just walked into the room with her husband, and Cecil, if that was his last breath. She indicated, that it was and proceeded out to get the nurse. My nephew looked up at the clock, and indicated "Cecil, there's your 4:44." Reevis passed at 4:44PM on October 11, 2012.

Reevis was a special, caring and unique individual who was willing to lend a helping hand. Reevis was actively involved with the Shiprock Marathon for over twenty years, as a runner at first then later on, as a committee member. Another organization that he was a board member of, was Totah Festival in Farmington, New Mexico. During his last week, he told family members, "You all know how to run the marathon, you have worked right along side me, continue working with the Marathon and get involved with Totah Festival". One joking thought to this was, did he want us to physically run the marathon, (26.2 miles)? One important message he left with family and friends, "Nihits'ii baa'a'daholya', Take care of your health".

Working along side Mr. Robert Winters, CEO for Navajo Nation Gaming Enterprise, they were able to make a dream become a reality for the Navajo Nation. The following is from a statement made by Mr. Robert Winters, who was unfortunately unable to attend an appreciation dinner for Reevis on August 23, 2012.

"I have spent thirty-five (35) years working in the public, private and corporate world. I have experienced a circumstance where there
occurs what is called a defining moment that determines whether you will succeed or fail in your objective, without exception it was
through the effort of a special individual who rose to the occasion and snatched victory from the jaws of defeat. Such an individual
possesses unique qualities. They must be able to look beyond their own self interest, be willing to sacrifice and have the personal
energy to go beyond what is expected. That individual must except new ideas and lead fellow workers into unexplored territory.
Most importantly, the individual must stand their ground when pressured to do otherwise. We have such a person in this room,
a man whom I firmly believe that without his efforts the Northern Edge Casino and Twin Arrows Navajo Resort Casino would still
only be a dream. There is a Broadway musical called, "A Man For All Seasons," The story is of a person who made a difference.
In this room we have such a person, my good friend Reevis Begay. Thank you Reevis for all you have done."

I would like to extend my appreciation to Dr. Kimberly Mohs, Dr. Peter Mathern, Dr. Daniel Wesche, and all the medical staff at Flagstaff Medical Center, Arizona Oncology, Fort Defiance Indian Hospital and Northern Navajo Medical Center for taking such good care of brother, Reevis.
THANK YOU, to the many family and friends of Reevis. It is comforting to know, Reevis touched so many lives and is missed by all who knew him.

---